ELECTRIC FOIL ANNECY HAUTE SAVOIE
WE FLY ABOVE THE WATER IN ELECTRIC FOIL !
The electric foil is the assembly of a mast and a profiled wing that allows our board to rise above the water ! The propulsion is provided by a small electric motor !
Here is how we propose you to do foil, which is normally practiced in the waves, but on our beautiful lake of Annecy, wonderfully flat as oil !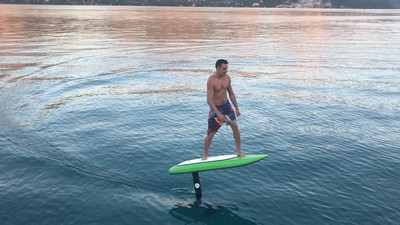 Concretely, how does it work?
You will pilot your electric foil with a joystick that will allow you to manage your speed, at about 12km/h. You will be able to rise above the water, to live this incredible sensation: you don't feel the chop nor the friction of the water, you are in suspension above the lake!
This nice project is the 2021 novelty of Takamaka! Everything has been made in our warehouse: board, engine, propeller, ... ! It's made in Annecy ! And of course, we are very proud !
The authorizations of piloting on the lake of Annecy are in progress.
For the moment, we propose you to initiate you, during 1 hour, with your buddies, your friend, your girlfriend, your family, to this new practice, the electric foil, on the lake of the bourget in Aix-les-Bains !
At the beginning, you start kneeling on the board, to learn how to manage your speed and then you can stand up on the foil and learn how to manage your glide speed! That's it, we are there, we can send the curves, the front side, the back side, without losing speed !
We warn you, it is addictive !
Then you come to test :D ?
PRACTICAL INFORMATION
From : 12 years old
Level: *****
Where : In Tresserve, on the Lido beach, east shore of the Lac du Bourget
When : every day, only in the morning (when the lake is still calm, we promise you it's royal !)
Included : instructor and boat supervision, equipment (board, helmet, wetsuit, life jackets)