Tandem paragliding Annecy
paragliding in annecy
Experience the amazing tandem flight above the lake of annecy
Want to experience something fun and adventurous? Discover tandem paragliding flight from Col de La Forclaz and enjoy Annecy and its surroundings from the sky!
The Takamaka team offers you different kinds of flights, regular or acrobatic,
starting from 15 minutes up to 30 minutes and more!
Our paragliding taking off and landing places : Annecy, Talloires, Doussard, Semnoz, Col de La Forclaz or Montmin.
Do not wait any longer, come and book this unforgettable experience on one of the most beautiful paragliding spots of the World! There is a flight for everyone, whether you are looking for thrills, freedom or just admiring beautiful landscapes. Check out our Tandem Flights !
Enjoy a somptuous flight above The Lake of Annecy ! The experience of a lifetime you won't soon forget. After your first paragliding tandem flight in Annecy you will never again look at the sky the same way.
Fly with one of our certified paragliding instructors: Alain, Fred, Bubu, Sebastien and Laurent. Do not worry, they have already driven more than 6000 flights in their career!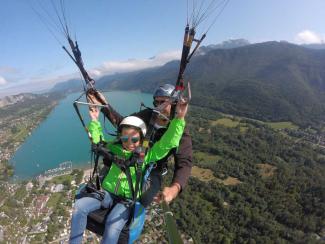 1. Paragliding Children Tandem Flight
Flying time : On average from 10 to 20 min, depending on the weather.
For safety reasons, we do these children's flights only in the morning because the thermal breezes are less strong.
The flight is in calm conditions in order to be sure that i
...
Niveau : Découverte
Famille : Oui
75.00 €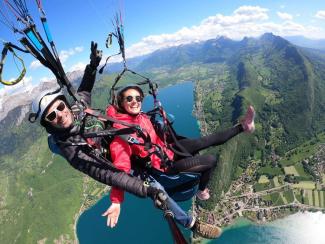 2. Paragliding Tandem Flight - Classic
Your flight will take you above lake Annecy giving you the opportunity to experience the breathtaking views of Annecy and the surrounding mountains, during the 800m descent. Duration of flight: approximately 10 to 20 mn Saison de parapente de Mai à Sep
...
Niveau : *
Age mini : 14
Famille : Oui
95.00 €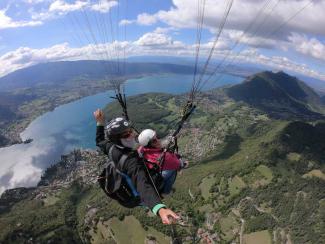 3. Paragliding Acrobatic Tandem Flight
Flying time : On average 10 to 20 min depending on the weather.
With acrobatics : 360° and wing over
You want to discover what is acrobatic paragliding ? You will take off on your tandem flight from the col de la Forclaz which is one of the most
...
Niveau : *
Age mini : 14
Famille : Oui
105.00 €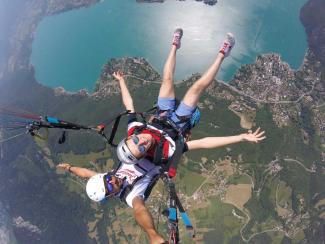 5. Paragliding Tandem Flight Performance
Flying time : More than 30min. - Only in the afternoon with thermics.
Without acrobatics
You want to experience an exceptional paragliding flight lasting over 30 minutes? This flight allows you to fly for longer, enabling you to experience new s
...
Niveau : *
Age mini : 14
Famille : Oui
120.00 €
6. Vol Parapente Annecy Accro-Fly
Flying time : On average 10-20min depending on the weather - Only in the afternoon
With acrobatics : 360°, wing over, SAT, Hélico .... An acrobatic flight from the beginning 'til the end for those who need adrenaline !
Annecy sensation tandem p
...
Niveau : *
Age mini : 14
Famille : Non
125.00 €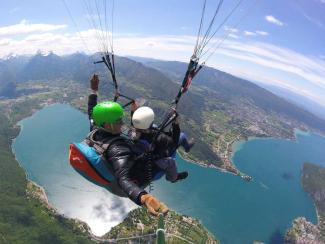 7. Paragliding Prestige Tandem Flight
Flying time : More than 30min - Only in the afternoon when it's hoter !
With or without acrobatics of your choice, pictures and videos included
Discover Annecy's lake and its surroundings from the sky with this extraordinary flight lasting over
...
Niveau : *
Age mini : 14
Famille : Oui
139.00 €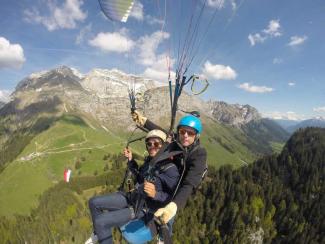 Paragliding Pictures and Videos
Pictures and videos of your paragliding experience above Annecy's lake in a memory card !
Niveau : *
Age mini : 5
Famille : Oui
30.00 €
7 results found
Results 1-7 - Page 1/1
Frequent questions: The first paragliding flights :
1) Do you feel dizzy during a first flight ?
Don't worry, you can not be dizzy during paragliding because you are not connected with the earth. it's a surprising and soft feeling, you look at the landscapes like you look at pictures. As in a plane, you might be a bit scared in the beginning, but no dizzy feelings.
2) is it physical/challenging to paraglide ?
No, paragliding remains a physical activity but you will just have to take a few steps to take off.
3) what's the take off like ?
First ou instructor will explain you the take off conditions:You just need to walk without stopping. After, the sail starts to carry you and brings you gently in the air. You will never feel like jumping in the emptiness or falling !
4) what about in the air under the sail ?
Once you are flying, you just sit in your seat and let yourself float ! In the air you will be seated like in a swing with a back.
Once you are comfortably seated, just enjoy the flight, and if you wish we will let you drive the sail for a short moment!!
5) what about air sickness ?
During paragliding, only a few people feel air sick ! (about 5%).
These are people who are also sensitive to seasickness or carsickness. If it is your case try a discovery flight, no one is sick before 20minutes of flight.
6) And the landing ?
The landing is done from a standing position with gentleness on the landing place passing over the reception chalet.
7) why would i do paragliding in annecy ?
The paragliding location of Montmin - Col de la Forclaz is one of the most famous spots in the world. The view is unique, you will fly over the lake and the aeras of take off and landing are perfect !
It is a wonderful place, you will hardly find a beter place to do your first flight !!
7) I'm still not confident ...
Don't hesitate, you just need to know if you want to do it or not !!
Subscribe for your paragliding flight in Annecy, It is an amazing experience that you will never forget !!!
Upon your arrival : come 15min before your meeting time, introduce yourself at the base of Doussard. Then you will take the minibus with the pilots to go up to the take off area located at Le Col de la Forclaz.
Our other outdoor summer sports around Annecy :
​
Restons connectés
Vous pouvez suivre toute notre actualité sur les réseaux sociaux