how about a casino evening in annecy
with a false casino night, plunge your guests in the mysterious world of las vegas

Create your casino evening and offer to your guests a wonderful evening by playing Frencn Roulette, Black-Jack and Poker with professional croupiers !

Our casino tables are specially designed for all locations (hotels, restaurants...). They can be taken apart and are easy to install.

To make your night even more playful and make your colleagues laugh, we can also offer you a table of street games (three-card-trick, tumblers..) animated by our "home-made swindler" !

Our team of organizers and croupiers will introduce you the rules of each game and will delight you with an unforgettable casino night followed by an auction !


Your casino evening in detail

Animation
- Croupiers-organizers...and teachers !
- Introduction to the rules
- Games' Director
- Organization of an "Auction"

Equipment
- Professional tables of black jack, roulette, chuck a luck, poker
- Casino Royale 14 grammes chips
- Others : Dealer buttons, disks, racks...
- Fake bank notes euros or dollars

Logistics
- Transport in the region
-Physical logistics and human resources
- The installation of the equipment
- Desassembly
Choose your Casino night in the style of the 20's during the Prohibition !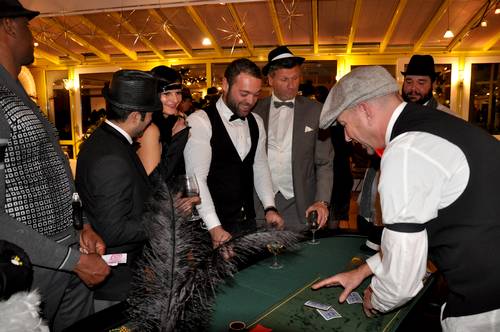 Contact : 04 50 45 60 61, commercial@takamaka.fr