how about an underground fondue in annecy
Welcome in the cave!
Equipped with helmets, head lamps and special underground suits you will stroll down in the cave of Adiau entering the winding galleries... Afterwards you will arrive in the central cave where you will taste the Savoyard fondue accompanied by an accordion. An original evening full of adventure!

Cave menu

A bottle of champagne upon the arrival of the guests
**
Meat buffet
Hazel-nut, bilberry, beaufort sausages
Country pâté

Local ham
Bread from our mountains

Savoyard fondue
Red and white Savoie wine

Home cake
Cave firewater
Coffee
Characteristics
Location : 20 min from Annecy by bus.
Duration of activity : about 3 hours.
Number of participants : 20 mini /30 max.
Difficulty: *
Period : All year round. Acces with snowshoes in the winter
Required equipment : warm sportswear, hiking shoes


We do also: The STAR TRACK, a DINNER UNDER THE DOME, the MURDER PARTY, La BORNANDINE with the SLEDGE RACE...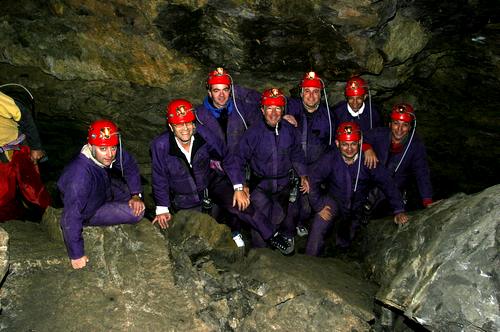 Contact : 04 50 45 60 61, commercial@takamaka.fr