Christmas Tree show
Annecy

How about an unforgettable Christmas Tree Show for your colleagues children. For an afternoon, you will be transported by the magic of Christmas. You can call our team out to come to Haute-Savoie, Savoie, Isère and Rhone to animate your Christmas Tree Show for a festive atmosphere.
Young and old meet in your company or other location to discover the magical extravanganza of Christmas. All along this afternoon, magicians, make-up artists, entertainers, jugglers and musicians will come to meet you for unforgettable moments. The TAKAMAKA Christmas Tree Day are moments of poetry and fun in an imaginary world.
Christmas shows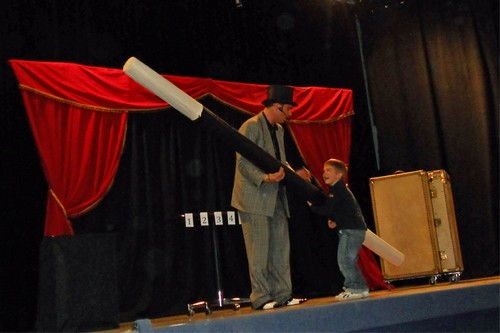 HARRY COVERT (Mister Green Bean):

HARRY COVERT is a magician and a professional illusionist. He offers you a visual interactive and participative show for young and old : Comic magic, mental magic but also great illusion.
Harry offers modern and rare musical acts, great illusion with or without a member of the audience : Levitation of a guest, Lotto prediction, A needle that passes through a pane...and the unique act in France : the "Nanogigamachine".
For Christmas, what is more enchanting than a magic show for the entertainment of your end-of-year party? Harry has prepared for you a special « Christmas Tree » show on the theme of magic and Christmas. Morover if you are not able to contact Santa Claus, Harry does it for you and can order his presence.
-A show for up to 500 people.
-Price : per hour contact us
-The animation includes: one hour of show with the artist, the sound system, and the magic acts !!
-Extra : Harry can make Santa Claus appear by magic.


An interactive magic performance, a special magic show for the whole family with the active participation of the audience : children and adults. The magician and his (real!) rabbit, scarves, coins, ropes adding his sense of humor and dynamism offers you a 45 minutes long moment of joy.

2 options :
• 45minutes : For the price contact us.
• 1h15 : same show of 45 minutes with a partner for acts of medium illusion : A woman cut into 3 pieces, pieced by 20 umbrellas in catalepsy...etc. For the price contact us.

Generally, each show needs the participation of the audience, young and old. The room must have the possibility to be darkened for real magical effects! Make sure there is a room next to the stage for the costumes and preparation. The sound system and light system can be provided by us.
Plumo is happy to present you his personal song, but he rapidly gets caught up in his overflowing and invasive imagination.
Does he have a chance to achieve his goal ?
With his crazy energy, Plumo shows how derision can give life to humoristic scenes but also tender and poetic moments. His song is only an excuse that highlights his fantasy and his cartoon world.

-Show for up to 500 people.
-Price: per hour, contact us
-The animation includes : The show of course with the artist, the sound system, and the magic acts!!